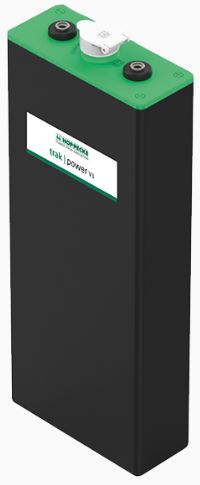 HOPPECKE trak | power VL HPzB are the first choice when you are looking for reliable, safe and durable solutions, which can be used highly economically thanks to their excellent levels of efficiency.
Designed and produced in accordance with British standards, the positive electrode is designed as a tubular plate containing the active mass and the negative plate is designed as a grid plate.
As a result, the HOPPECKE trak | power VL HPzB are suitable for all conventional traction applications that require a fail-safe solution.

Our battery systems offer you maximum quality with low investment costs and maximum flexibility, meaning that you can retrofit additional components at any time, such as trak | air or trak | com.
Furthermore, thanks to their robust plastic coating and the tray insulation that this creates, these systems are absolutely safe for operation.
ADVANTAGES:
Longer battery life due to selected components
Higher cycle stability due to innovative design
High flexibility - can be retrofitted to trak | air at a later date
trak I uplift air
Optimal availability and fast charging
ADVANTAGES:
Reduced charging times
Increased service life
Reduced energy consumption
Reduction of water consumption by up to 65 %
Efficient and lifespan extending charging characteristics in the HOPPECKE system
Intermediate charging without intensive equalisation charging possible
Full charge guaranteed through pressure-monitored adaptive charge factor adjustment
trak I uplift iQ
Smart charging and controlling function
ADVANTAGES:
Cycle curves for all relevant values
Graphs of charging state and energy throughput etc.
Chronological lists of all exceptional incidents
Summary of individual data in fleet reports
OPTIONS:
trak | aquafill
trak | aquacheck
trak | charger HF premium
trak | monitor
trak | remote
APPLICATIONS:
Industrial trucks
Special-purpose vehicles
Cleaning machines
Others