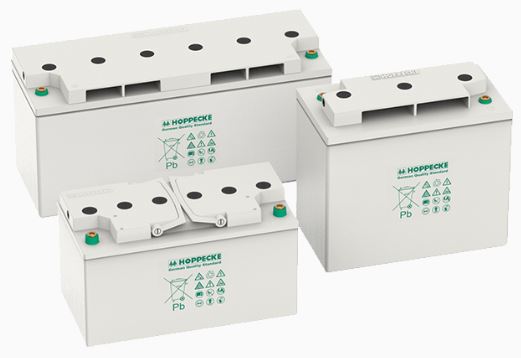 Maintenance-free monobloc traction batteries
HOPPECKE trak | bloc are sealed batteries for cyclical applications.

Thanks to their compact design, these batteries are ideal for use in areas with space is restricted, e.g. in cleaning machines, electric wheelchairs, electric golf trolleys and caravans. Thanks to the use of absorbent glass mat technology, the electrolyte is fixed, making these batteries maintenance-free and non-spillable. 
The design principle of the HOPPECKE trak | bloc batteries is based on the use of grid plates and ESS technology. Thanks to their high energy density, HOPPECKE trak | bloc batteries only take up a small amount of space, enabling you to maximize your use of the space available. The central degassing system integrated in the battery lid features an optional tube system and can be used carry out the mixture consisting of hydrogen and oxygen in a targeted manner. The flat battery lid with an integrated handle and the easy-clean surface ensure simple and convenient handling during assembly. The properties of the HOPPECKE trak | bloc batteries mean that they can be used in a wide range of applications.
The trak | bloc battery technology was developed by HOPPECKE at the beginning of the century and to date offers excellent reliability a long service life for industrial applications.
Take advantage of our comprehensive range of high-performance products with excellent high-current behaviour, which covers almost all conventional applications.
ADVANTAGES:
No refilling of water over the entire service life
Suitable for extreme operating conditions, particularly in electric vehicles, patient elevators and cleaning machines
Greater range for vehicles with high power consumption
Flexible battery installation, suitable for position-independent operation
FEATURES:
Maintenance free traction battery
Maximum energy density
Very good resistance to vibration
Excellent high-current behaviour
Comprehensive product range
Variety of connection options
APPLICATIONS:
Utility vehicles
Industrial trucks
Special-purpose vehicles
Cleaning machines
Lifting platforms
Wheelchairs and rehabilitation equipment
Recreational vehicles
Others