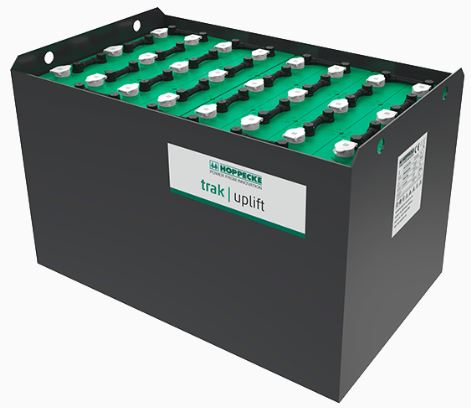 The heart of all trak | uplift batteries is the new Active Carbon.
Precisely matched active materials enable higher current discharge characteristics as well as improved fast charging capability. In combination with the optimised active area ratio of the new 3D Enhanced Electrode Design, Active Carbon ensures increased service life for cyclic applications. In single shift operation trak | uplift batteries demonstrate their durability and economy.
The Protective Shell Separator effectively protects against short circuits as a result of deposits of free active material on the negative electrode.
A pole feed-through with a labyrinth system specially developed for the daily requirements of industrial trucks withstands even the highest mechanical strains and ensures reliable operation and reduced maintenance. 
The trak | uplift battery is now available as a cost-optimised basic solution which is designed so that additional components such as trak | air electrolyte circulation can be retrofitted at any time.
Customised or vehicle-specific adaptations are of course possible at any time.
ADVANTAGES:
Active Carbon ensures improved fast charging capability
The Protective Shell Separator effectively prevents short circuits due to mossing
Can be retrofitted with trak | air or other components at any time
Rapid availability
Universal use
High quality – low procurement costs
Ultimate service life in systems with HOPPECKE chargers
trak I uplift air
Optimal availability and fast charging
ADVANTAGES:
Reduced charging times
Increased service life
Reduced energy consumption
Reduction of water consumption by up to 65 %
Efficient and lifespan extending charging characteristics in the HOPPECKE system
Intermediate charging without intensive equalisation charging possible
Full charge guaranteed through pressure-monitored adaptive charge factor adjustment
trak I uplift iQ
Smart charging and controlling function
ADVANTAGES:
Cycle curves for all relevant values
Graphs of charging state and energy throughput etc.
Chronological lists of all exceptional incidents
Summary of individual data in fleet reports
OPTIONS:
trak | aquafill
trak | aquacheck
trak | charger HF premium
trak | monitor
trak | remote
APPLICATIONS:
Industrial trucks
Utility vehicles
Agricultural and construction machinery
Special-purpose vehicles
Cleaning machines
Lifting platforms
Wheelchairs and rehabilitation equipment
Recreational vehicles
Cold storage
Others