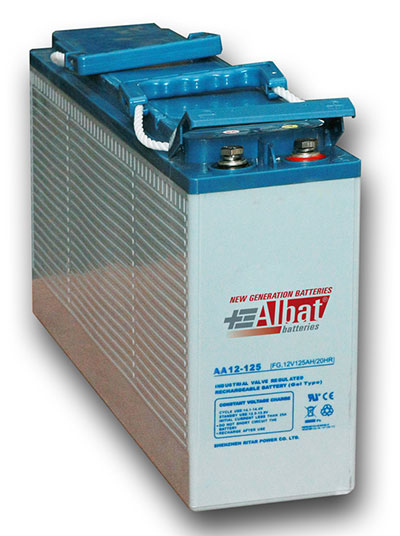 AA F series battery is a general-purpose battery with 10+ years design life in float service. With advanced AGM valve regulated technology and high purity raw material, the AA F series battery maintains high consistency for better performance and reliable standby service life.
DESCRIPTION:
- Positive and negative grid electrodes
- Electrolyte is absorbed in active mass pores and in micro porosity separator
- Separators are from soft glass fibre
- Each cell has one-way safety pressure valve
- Safety fireproof equipment
MAIN PERFOMANCE:
- Nominal voltage: 12 Vdc
- Nominal capacity: from 55 Ah up to 260 Ah
- Technology: VRLA AGM
- Contact: Front Terminal
- Life time: 10+ years
APPLICATIONS:
- Telecom,
- Utility / Substations,
- UPS,
- Emergency light
- Security system.