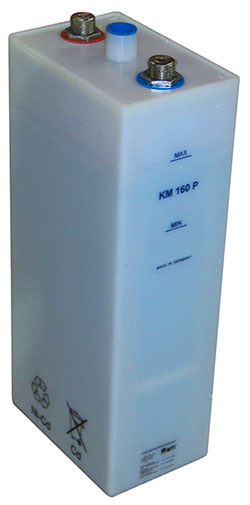 Ni-Cd cells and batteries with pocket plate electrodes have a proven design and reliability to give maximum service life. Its eminent features make our Ni-Cd battery to be one of the most reliable and adequate systems available in the market with a cost-effective, durable as well as a safe solution.
This cell type is especially designed for high current discharging over short discharged periods. The recommended discharge time for the KH range is 1 s to 30 min.
Ni-Cd battery cells fulfil all requirements according to IEC 60623 and EN 60623.
MAIN FEATURES:
• recommended discharge time: 1 s to 30 min
• available capacity range 10 Ah to 800 Ah
• Ni-Cd cells of this range are especially constructed for high current discharging and starting applications
• excellent resistance against electrical and mechanical stress
• no risks of terminal decompose or sudden death due to the plate construction
• extremely long life time - over 20 years in stationary cycling operations
• operational temperature range between – 40°C to + 50°C
• extremely long storage life - for several years in a discharged state under correct conditions
• robust construction - hard-wearing and insensitive to faults in maintenance
• generous electrolyte reserve – long maintenance interval
• translucent plastic cases for visible electrolyte level
APPLICATIONS:
- Railway,
- UPS,
- Power and substations,
- Ship equipment,
- Oil and gas refineries