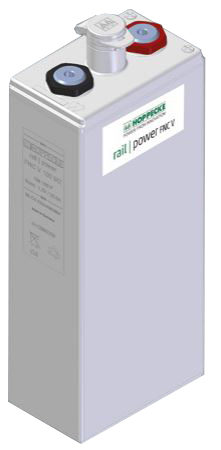 Energy storage for railway applications
The rail | power VR is a patented technology based on grid type electrodes with a fleece separator.
The electrodes use tried-and-tested lead-calcium technology. The electrolyte contains gel additives (ESS technology) and is stored in the fleece separator. As a result, this technology not only offers the benefits of a fleece battery, but also those of a gel battery.
The batteries are installed in casings made of stable polypropylene or ABS.
rail | power VR batteries have been working reliably as on-board batteries in all railway vehicles.
They have also been used as starter batteries in diesel vehicles.
The batteries are resistant to shocks and vibrations that are well above the relevant requirements for railway batteries.
ADVANTAGES:
Available in 6 V and 12 V block battery and 2 V individual cell
Maintenance-free regarding water refilling, highest security over the whole life
Integrated backfire protection guarantees optimal operational safety
Usable without problems in the temperature range from -20 °C to +45 °C
Resistant to deep discharge
No "thermal runaway", no electrolyte coating thanks to ESS
Design life 12 years+, service life in rail application up to 6 years
High cycle stability, more than 1,500 cycles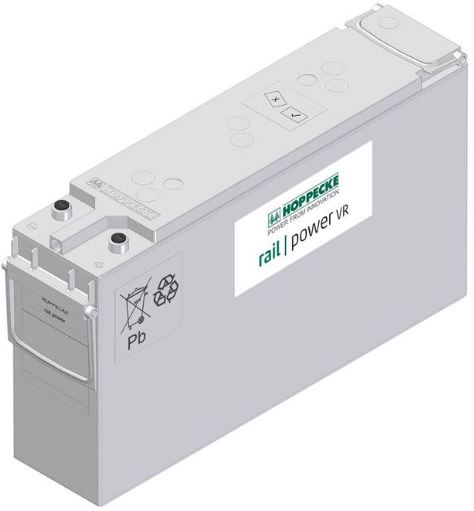 MAIN FEATURES:
Innovative GEL-ESS battery technology
Series: rail I power VR M 12 V, Capacity 58 up to 113 Ah and Weight 23 up to 42,3 kg
Series: rail I power VR M 12 V FT – Front Terminal, Capacity 105 up to 168 Ah and Weight 39 up to 59,8 kg
Series: rail I power VR M 6 V, Capacity 170 up to 220 Ah and Weight 32,7 up to 44,6 kg
Series rail I power VR M 2 V, Capacity 258 up to 417 Ah and Weight 15,1 up to 25,8 kg
APPLICATIONS:
Special-purpose vehicles
High speed trains
Local public transport
Regional trains
Locomotives
Others
NORMS AND STANDARDS:
DIN-EN-60254
DIN-EN-60896
IEC-EN-61373
UL94