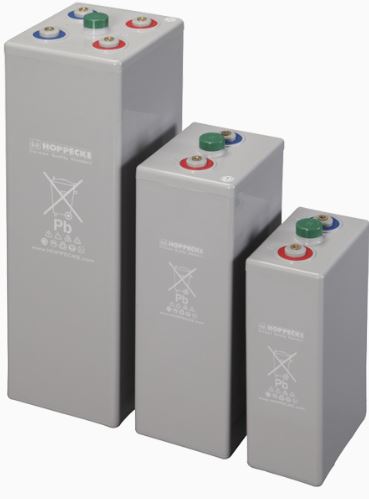 The HOPPECKE sun | power VR L is a sealed lead-acid battery for cyclical applications.
Our innovative gel technology makes it virtually maintenance-free – replenishment with water is not necessary. Use of a proven tubular plate design ensures excellent cycle stability during operation with partial discharge (partial state of charge), as in village power supplies, for example.
A format proven to DIN 40742 makes it extremely versatile.
The option for horizontal arrangement means the sun | power VR L makes ideal use of existing spaces.
The use of HOPPECKE system connectors results in it providing increased short-circuit protection even during installation.
ADVANTAGES:
Maintenance-free regarding water refilling – due to innovative Gel-technology
Very high cycle stability during PSoC1 operation – due to tubular plate design with efficient charge current acceptance
Maximum compatibility – dimensions according to DIN 40742
Optimal space utilization – due to possibility of horizontal arrangement
Higher short-circuit safety even during the installation – based on HOPPECKE system connectors
MAIN PERFOMANCE:
Nominal voltage: 2 Vdc
Nominal capacity: from 204 Ah up to 3089 Ah
Technology: VRLA GEL - OPzV
Contact: Top Terminal
SERVICE LIFE IN CYCLES AND DEPTH OF DISCHARGE
APPLICATIONS:
Village power supplies
Hybrid systems
Peak Shaving/voltage stabilisation
Stations of mobile communications
Sustainable tourism
Cathodic corrosion protection
Pumping systems