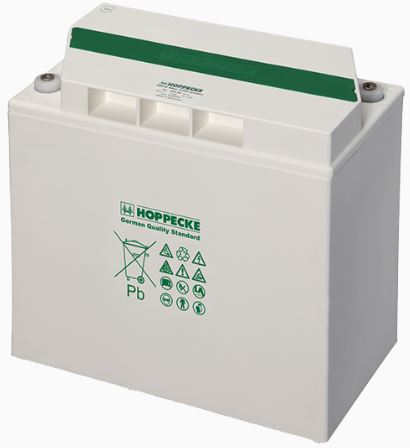 The HOPPECKE sun | power VR L bloc is a sealed lead-acid battery for cyclical applications.
Our innovative gel technology makes it virtually maintenance-free – replenishment with water is not necessary.
Use of a proven tubular plate design ensures excellent cycle stability during operation with partial discharge (partial state of charge), as in solar applications, for example.
A format proven to DIN 40744 makes it extremely versatile. The battery cover with integrated handle system makes mounting and installation very easy.
The use of HOPPECKE system connectors results in the sun | power VR L bloc providing increased short-circuit protection even during installation.
ADVANTAGES:
Maintenance-free regarding water refilling – due to innovative Gel-technology
Very high cycle stability during PSoC1 operation – due to tubular plate design with efficient charge current acceptance
Maximum compatibility – dimensions according to DIN 40742
Optimal space utilization – due to possibility of horizontal arrangement
Higher short-circuit safety even during the installation – based on HOPPECKE system connectors
MAIN PERFOMANCE:
Nominal voltage: 6 Vdc and 12 Vdc
Nominal capacity: 6 Vdc, 205 Ah up to 308 Ah
Nominal capacity: 12 Vdc, 51 Ah up to 154 Ah
Technology: VRLA GEL - OPzV
Contact: Top Terminal
SERVICE LIFE IN CYCLES AND DEPTH OF DISCHARGE
APPLICATIONS:
Village power supplies
Hybrid systems
Peak Shaving/voltage stabilisation
Stations of mobile communications
Sustainable tourism
Cathodic corrosion protection
Pumping systems