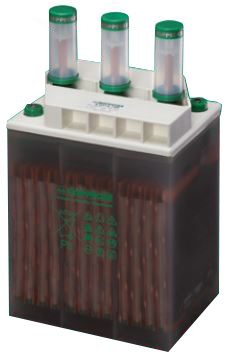 The HOPPECKE grid | power V L battery is a vented, stationary, lead-acid battery with liquid electrolyte. Its design with positive tubular plates and all-round protection of the active mass by woven polyester gauntlets ensures extremely high resilience. Our grid | power V L batteries are therefore ideal for use in areas with high charge and discharge loads, such as solar applications, or for long hold times in areas such as telecommunications and security lighting.
The impact- resistant and highly translucent PP housing is extremely resistant to common cleaning agents and enables convenient monitoring of the electrolyte level. Both the easy-to-clean surface and the level battery cover with integrated handle ensure easy handling.
Product design to DIN 40736 ensures highest level of compatibility when replacing existing equipment and for integration with the extension of existing battery systems. The grid | power V L battery stands for extremely long resilience due to its innovative structure – made by HOPPECKE.
Combination with the HOPPECKE grid | aquagen recombination system lengthens the interval between water refills almost to the point where no maintenance is required, thus significantly reducing operating costs.
ADVANTAGES:
Very long cycle life
Excellent durability
Simple assembly and installation
Increased short-circuit protection already during installation through the use of HOPPECKE system connectors
Extremely extended water refill intervals up to maintenance-free operation
MAIN PERFOMANCE:
Nominal voltage: 6 Vdc, 12 Vdc
Nominal capacity: 6 Vdc, 202 Ah to 302 Ah
Nominal capacity: 12 Vdc, 50 Ah to 151 Ah
Technology: FLOODED
Contact: Top Terminal
Life time: 18 years
APPLICATIONS:
Switchgear,
Telecommunication,
Power Supply Systems,
Safety lighting,
Traffic systems,