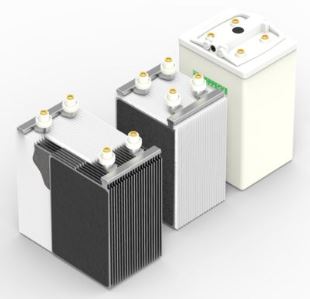 trak | power VR M is a maintenance-free AGM 2-volt cell that is used in high-current applications, such as with the trak | systemizer dynamics.

These products are equipped with the latest HOPPECKE ESS technology and demonstrate significantly reduced sensitivity to harsh external operating conditions. Furthermore, the risk of a thermal runway – an established problem in AGM batteries – is almost fully ruled out.
The cell is incredibly flexible thanks to the option to use it as a horizontal variant.
The trak | power VR M also enables simple handling thanks to the flat battery lid with an integrated handle.
The trak | power VR M also provides improved short-circuit protection during assembly thanks to the use of HOPPECKE system connectors.
HOPPECKE products stand out from the rest of the market thanks to the latest production techniques and continuous process optimisations and meet the quality requirements placed on a premium manufacturer and the demands of our discerning customers.
ADVANTAGES:
Maintenance-free with regard to refilling water thanks to innovative AGM technology
Low investment costs due to innovative electrode structure
Optimum use of space due to horizontal arrangement
Increased short-circuit protection already during installation through the use of HOPPECKE system connectors
APPLICATIONS:
Industrial trucks
Utility vehicles
Agricultural and construction machinery
Special-purpose vehicles
Cleaning machines
Lifting platforms
Wheelchairs and rehabilitation equipment
Recreational vehicles
Others