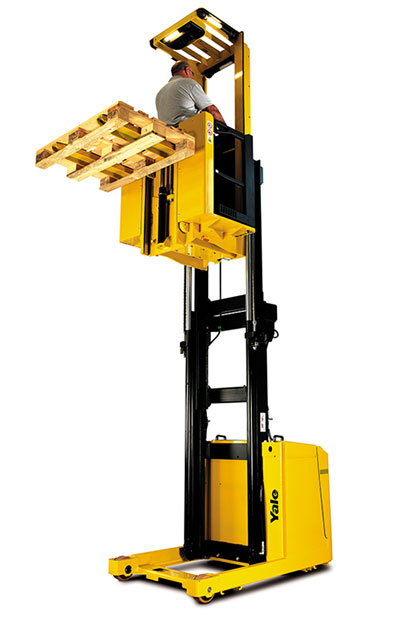 The MO series of electric order pickers offer quiet, effortless operation and an abundance of features, all focused on ensuring operators can achieve faster, more accurate, order picking no matter the order picker.
LOW LEVEL ORDER PICKERS:
Yale MO series of low level order pickers is one of the most efficient and cost effective solutions for the fast efficient picking of customer orders.
Available with a fixed or lifting platform with independent fork lift for first and second level picking the MO series also includes a scissor lift option for ground and occasional second level picking.
MODELS:
- MO10L, with load capacity 1000 kg and lift height 690 mm
- MO20, with load capacity 2000 kg and lift height 120 mm
- MO20P, with load capacity 2000 kg and lift height 690 mm
- MO25, with load capacity 2500 kg and lift height 120 mm
THE MEDIUM AND HIGH LEVEL ORDER PICKERS:
Yale MO10E series of medium and high level order pickers has been designed for second and third level picking up to around 4.8m and includes fixed fork, fixed cabin, supplementary lift and walk-on-platform or cage models. Providing the precise application solution in warehouses where picking individual items to fulfil customer orders is the primary focus.
The MO series is available with rail or wire guidance for operation in very narrow aisles and allow pick locations up to 9m. They allow pallet locations to be maximised for lower turnover items and very dense storage to be achieved in the minimum space.
MODELS:
- MO10E AC 0,7 FC, with load capacity 1000 kg and lift height 690 mm
- MO10E AC 15 FC, with load capacity 1000 kg and lift height 1410 mm
- MO10E AC 12, with load capacity 1000 kg and lift height 1010 mm
- MO10E AC 12 SL, with load capacity 1000 kg and lift height 1010 mm
- MO10E AC 17 SL, with load capacity 1000 kg and lift height 1510 mm