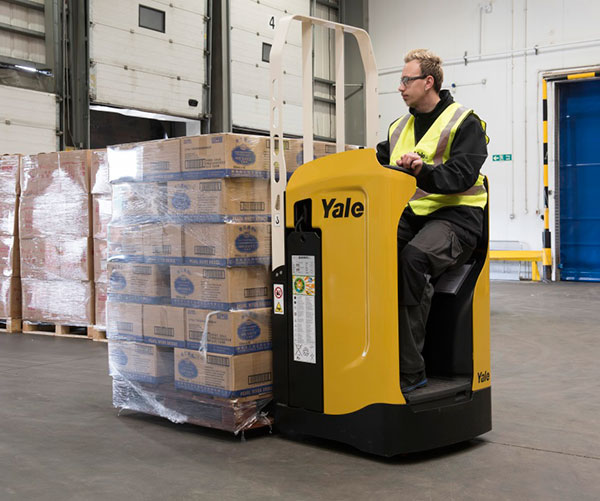 Whether loading or unloading a trailer or moving loads around a warehouse the Yale range of electric pallet trucks are designed to make the operator's job as easy and comfortable as possible to ensure that the warehouse is as productive as possible.
Special features such as angled hand grips and 'butterfly' controls that require minimum effort help reduce stress on the operator's wrist, thumb and fingers. From lower steps to contoured cushion seats that reduce body vibration and fatigue, Yale understands the importance of operator comfort and the resulting effect on productivity.
Thanks to the ergonomic design and state of the art technology of the flexible range of MP pedestrian and rider pallet trucks, operators enjoy reliability and virtually effortless operation, remaining productive for longer.
MODELS:
- Super Compact Powered Pallet Trucks, MPSC12, with load capacity 1200 kg
- Compact Powered Pallet Trucks, MPC14, with load capacity 1400 kg
- Pedestrian Powered Pallet Trucks, MP16-22, with load capacity 1600 to 2200 kg
- Heavy Duty Pedestrian Powered Pallet Trucks, MP25-30HD, with load capacity 2500 to 3000 kg
- Platform Pallet Trucks, MP20X, MP20XV, MP20XD, with load capacity 2000 to 3000 kg
- Rider Pallet Trucks, MP20-25T, with load capacity 2000 to 2500 kg
- Shelf Stocker, MP20DL, 2000 kg