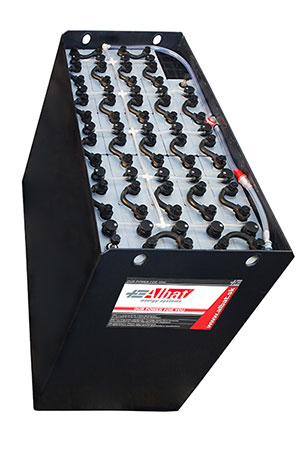 The standard MOTIVE POWER Traction Battery range includes the complete DIN and British Standard series according to EN60254-1/2 and in compliance with EN50272-3, available in the widest range of possible configurations and charging solutions, ensuring the most flexible answer to any specific application.
AQUALEVEL
The aqualevel water refill system makes it possible to top up all the cells from one central point through an integrated system.
ELECTROLYTE CIRCULATION (EC)
The circulation system, using the AirLift principle, consists of a pipe system which is fitted in the cells. A diaphragm pump sends a low rate airflow into the cell which creates a circulating air stream inside the cell box. This system prevents electrolyte stratification and the battery charging is optimised.
APPLICATIONS:
-
- Materials handling equipment (electric forklifts),
- Electric trucks,
- Large industrial cleaning machines,
- Tower wagons,
MAIN FEATURES:
- Nominal capacity of PzS cells: 100 up to 1550 Ah C5
- Nominal capacity od PzB cells: 110 up to 1050 Ah C5
- Inter-cell connections: Bolted
- Electrolyte circulation – optional
- Aqualevel – optional
- Charging solution: 7-12 hours charging time with transformer charger or HF switching charger