ONLINE DOUBLE CONVERSION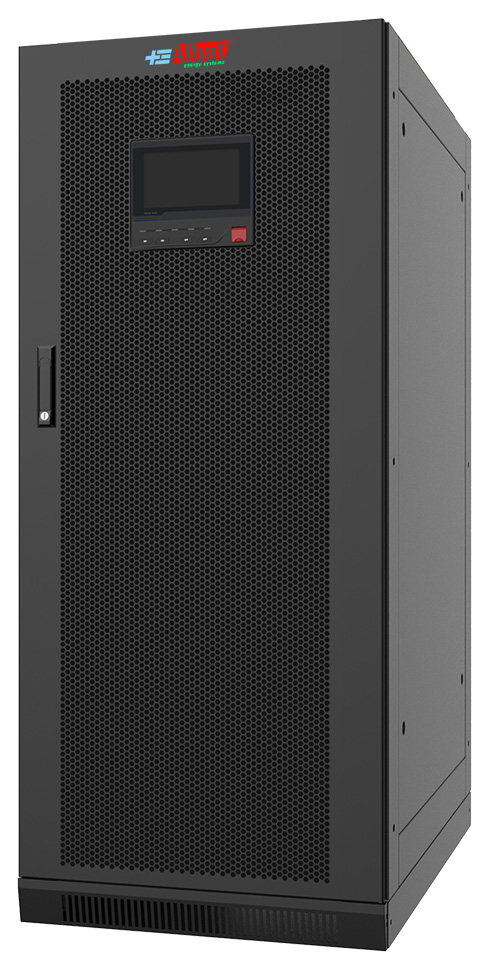 Uninterruptible power supplies modular SAURUS MOD 25-600kVA are ALBAT's three-phase modular UPS, UPS with modules hot extractable, in powers starting from 25kVA up to 600kVA. The UPS SAURUS MOD series adopts a completely modular technology, ensuring constant redundancy of the UPS.

Their modularity allows future expansion in power up to 2.4MW. Available in three sizes, up to 125kVA, 300kVA and 600kVA and with an efficiency of up to 96% and maximum safety, SAURUS MOD is designed for medium and large data centers. Configurable directly from the display, wide flexibility and high overload capacity. The self-cleaning function reduces the risk of dust accumulation on the cards. The system includes the free contact card for alarms.
ALBAT'S UPS Series SAURUS MOD 25-600 kVA represents a perfect solution for a wide range application in the:
Data Center,
Health Care,
Industry,
Server.
Main Features:
Online UPS with advanced dual DSP digital control technology, fast data processing, self-diagnosis capability and fast fault repair,
Parallel redundancy and parallel capacity scaling mode making the application more flexible,
Output power factor 1 with higher power output,
Overall system efficiency reaches up to 96% for greater energy savings,
The whole design system is hot-swappable,
Adaptable to the network and fully settable from the display on site,
ECO mode can be set,
IGBT rectification technology with ultra-low input harmonics,
Eliminates pollution from the electricity grid and protects both the load and the electricity grid,
Large capacity up to 300kVA for a single cabinet,
Small footprint of only 0.5 square meters,
High resistance to ensure module reliability and hot exchange,
Rotating module thanks to the suspension technology of the module that improves efficiency and reduces operating costs,
Host and battery are equipped with reliable, double-layer protection mechanisms,
It has a BSC output to solve the problem of unsynchronized power supply