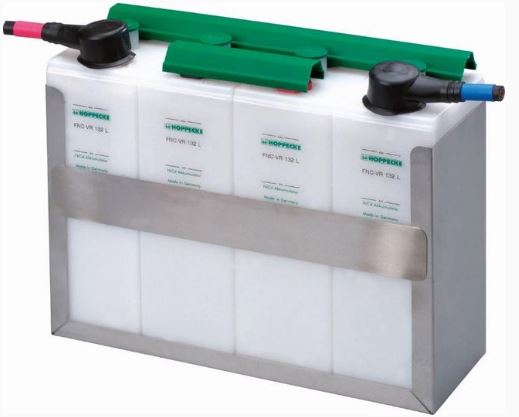 The FNC-VR is a valve regulated nickel-cadmium Battery
The extremely low maintenance grid FNC-VR battery is developed in line with the HOPPECKE proven fibre matrix plate technology. The addition of the special recombinant technology of this battery to the fibre plate design gives exceptional reliability in critical applications.
The FNC-VR battery provides superior performance to other valve regulated nickel-cadmium technologies.
Designed specifically for UPS, switchgear and other standby applications where the system must be totally reliable with minimum maintenance.
ADVANTAGES:
Operating life up to 25 years
Water maintenance period with 1,40 V/cell float charg: 20 years at 20 °C
Application in the temperature range from -25°C to +60 °C. With special electrolyte even temperatures down to -50 °C are possible.
Excellent resistance to electrical and mechanical abuse
Long shelf-life without loss of performance after commissioning
High cycle stability (over 3000 cycles according to EN-60623)
APPLICATIONS:
Switchgear,
Telecommunication,
Power Supply Systems,
Power Plants,
Control technology,
Safety lighting,
Traffic systems,