ONLINE DOUBLE CONVERSION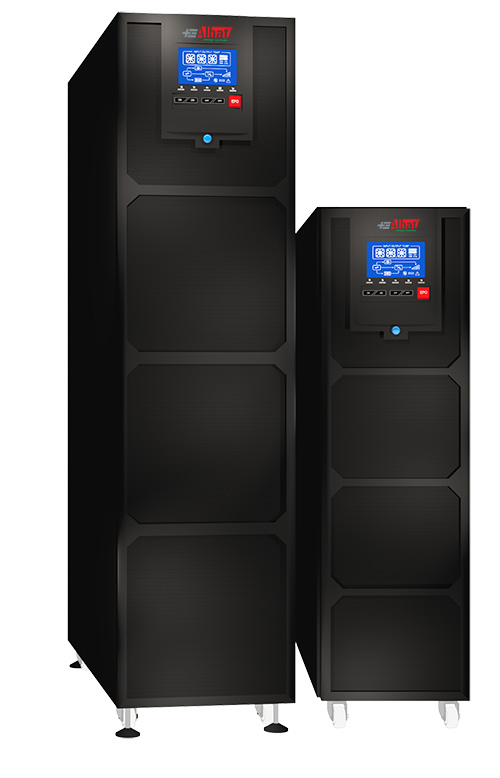 The UPS Three-Phase SAURUS 10-40kVA are ALBAT's three-phase online UPS, double conversion tower UPS in powers from 10kVA up to 40kVA. The UPS SAURUS series adopts the most innovative technologies with 3 IGBT levels, guaranteeing an efficiency of up to 96% and a unitary output power factor.

SAURUS 10kVA and 20kVA can be configured in input \ output: 1 \ 1 or 3 \ 1 or 3 \ 3 mode directly from the display, while the 30kVA and 40kVA models can be configured 3 \ 1 or 3 \ 3. Three-phase UPS available in version with internal batteries or external battery cabinet. The system includes the free contact card for alarms and a manual bypass disconnector to facilitate maintenance.
ALBAT'S UPS Series SAURUS 10-40 kVA represents a perfect solution for a wide range application in the:
Data Center,
Health Care,
Transport,
Industry,
Server.
Main Features:
Three-phase UPS with 3-level IGBT rectification technology,
Double conversion online UPS,
Flexible single-phase or three-phase input/output configuration,
Available in power from 10 up to 40 kVA,
Flexible battery configuration settable from display:
- 10kVA: from 16 to 40 monoblocks in series,
- from 20kVA to 40kVA: from 24 to 40 monoblocks in series,
Online UPS with 96% efficiency,
Output power factor 1 saving on energy consumption,
Full digital interconnection and advanced DSP control technology,
Fully settable from the touch screen display on site and with intuitive interface,
Innovative self-cleaning function that periodically expels dust, reducing breakdowns,
Easy-to-use security features and alarm alerts,
Built-in black box that periodically records the waveforms passing through the display,
Small footprint and eco-friendly design.