ONLINE DOUBLE CONVERSION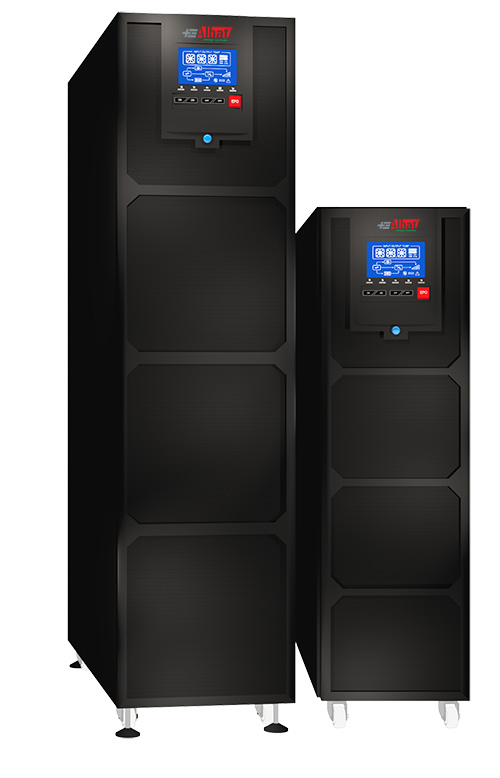 Let'See What We do?
UPS for companies are an essential component for business continuity in any sector. When it comes to three-phase UPS, the range of products available on the market is very vast, and among these the ALBAT SAURUS three-phase UPSs stand out. These double conversion tower UPSs are available in powers ranging from 10kVA to 40kVA and are characterized by their high efficiency, thanks to the 3-level IGBT technology integrated in the inverter section.
SAURUS 10kVA and 20kVA can be configured in input / output 1 / 1 or 3 / 1 or 3 / 3 mode directly from the display, while the 30 and 40kVA models can be configured 3 / 1 or 3 / 3. Three-phase UPS available in version with internal batteries or external battery cabinet. The system includes the free contact card for alarms and a manual bypass disconnector to facilitate maintenance.
Main Applications:
ALBAT'S UPS Series SAURUS 10-40 kVA represents a perfect solution for a wide range application in the:
Data Center,
Health Care,
Transport,
Industry,
Server.
Main Features:
The SAURUS product provide high output power, ideal for companies that require a reliable and robust UPS solution. These double conversion tower UPSs can ensure continuity of service and higher efficiency, reducing overall operating costs. In particular, the ECO mode, which guarantees efficiency up to 99%, allows companies to reduce energy costs, while maintaining maximum system reliability. Furthermore, the presence of a 3-stage battery recharge and maintenance system ensures longer battery life, further reducing maintenance costs.
ALBAT's SAURUS range also includes a wide range of advanced features, including a computerized TOUCH-SCREEN screen with Linux operating system and colour graphic interface, available in seven languages. This guarantees easy access to information on UPS performance and greater flexibility in managing configurations.
Finally, the possibility of installing up to 10 units in parallel N+1 guarantees greater reliability and greater configuration management flexibility, adapting the UPS to the specific needs of the company.
In summary, the range of ALBAT SAURUS Three-Phase Uninterruptible Power Supplies represents a reliable, efficient and flexible solution for companies that need of a continuous and reliable source of emergency power. Thanks to their ability to be configured in parallel and the wide range of advanced features, these UPSs can ensure maximum system availability, while reducing overall operating costs. Furthermore, the ALBAT SAURUS range is available in different powers able to satisfy the needs of any type of company, from a small office to a large company.
EXCELLENT PERFOMANCE:
Output power factor equal to 1
AC \ AC efficiency up to 97%
Innovative three-level IGBT technology integrated in the inverter section
Modifiable input and output: 1:1, 3:1, 3:3 (10-20kVA) and 3:1, 3:3 (30-40kVA)
Maximum capacity of built-in batteries: from 16 up to 40 12V 9Ah monoblocks (10-20kVA) and from 48 up to 80 12V 9Ah monoblocks (30-40kVA)
Ultra Wide Battery Range: 10kVA version minimum 16 up to 40 for monoblocks series (± 96 ~ ± 240Vdc) and 20-30-40kVA version minimum 24 up to 40 for monoblocks series (± 144 ~ ± 240Vdc)
Advanced control with double redundant DSP
ECO mode with efficiency up to 99%, configurable from the display
Maximum output tolerance, ability to operate with 100% unbalanced loads
Fully tropicalized electronic cards
Double input with wide tolerance, compatible with diesel generators
MORE OPTIONS:
Advanced 3-stage battery charging and maintenance system
Shared batteries for parallel systems, a single battery pack for two N + 1 UPSs
Possibility of parallel installation N + 1 (redundant or power) up to 10 units.
Integrated RS485 and Modbus communication port
Protection against reverse polarity of the batteries
SNMP network card for remote control and monitoring (optional)
NC \ NO dry contact card for further 12 alarms (optional)