ONLINE DOUBLE CONVERSION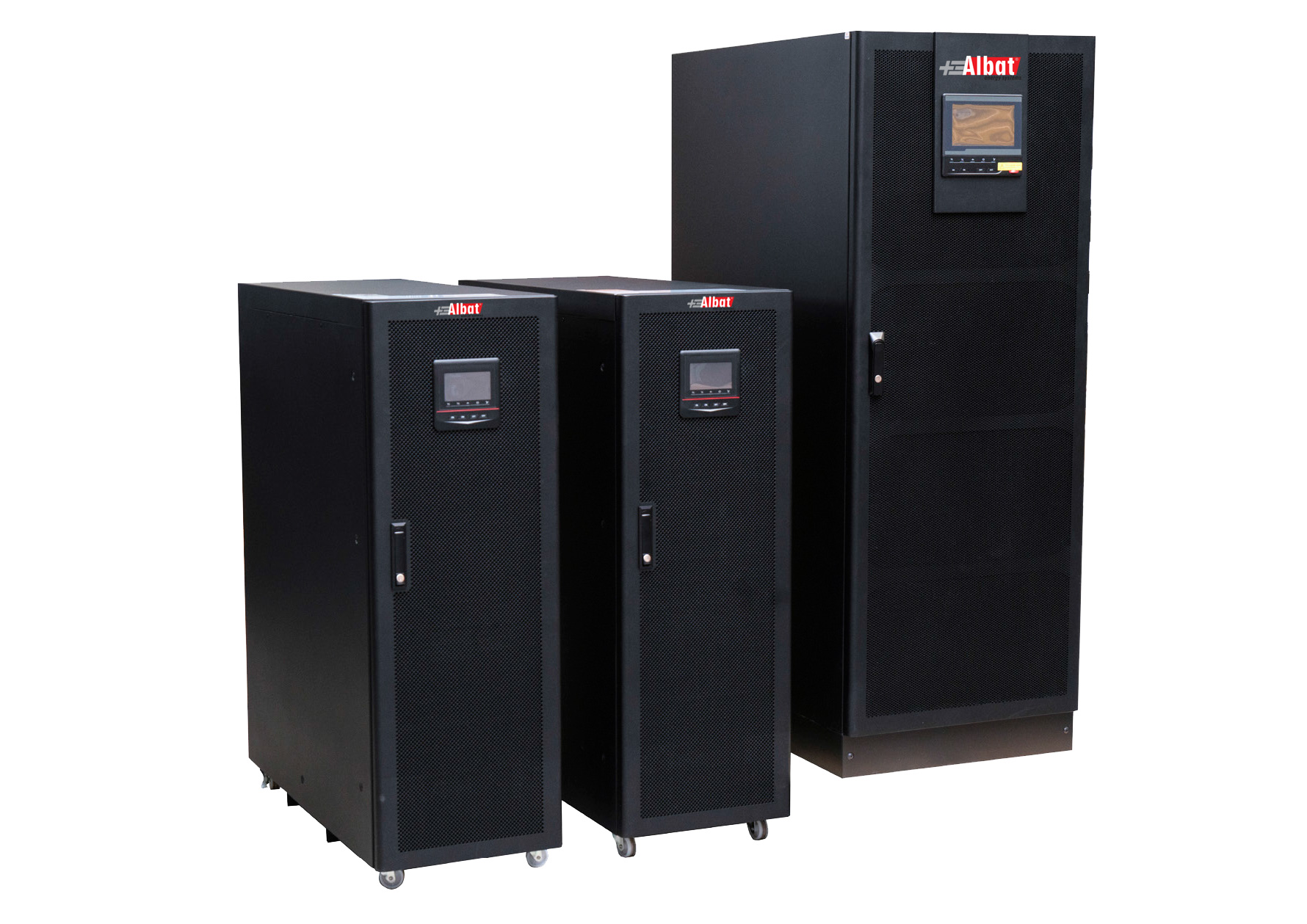 The ALBAT SAURUS UPS series includes double conversion tower UPS with powers from 60kVA up to 200kVA. SAURUS UPSs are available in three sizes: 60kVA, from 80kVA to 120kVA and from 160kVA to 200kVA.
The SAURUS three phase UPS series uses a centralized modular design, allowing for future expansion of the UPS. These UPSs can be expanded in power directly on site and from the display.
The SAURUS UPSs offer great flexibility in the number of batteries and high overload capacity, with the innovative self-cleaning function that reduces the risk of dust accumulation on the boards.
The system also includes the free contact card for alarms. The batteries are common for parallel systems, with only one battery pack for two N+1 UPSs, and the battery configurations range from 14 to 24 monoblocks (±168~±288Vdc).
ALBAT'S UPS Series SAURUS 60-200 kVA represents a perfect solution for a wide range application in the:
Data Center,
Health Care,
Transport,
Industry,
Server.
Main Features:
SAURUS UPSs feature ECO mode with efficiency up to 99%, configurable from the display. Furthermore, the SAURUS UPSs are equipped with many options and accessories, including the SNMP network card for the control and monitoring of the UPS, the parallel kit, the additional free contact card, the battery cabinets, the of the battery, the N+X configuration in parallel, the isolation transformer.
The SAURUS UPSs have an output power factor of 1 and maximum AC\AC efficiency up to 97%, thanks to the 3 IGBT levels of the inverter. Furthermore, the advanced control with double redundant DSP and the fully tropicalized electronic boards make these UPSs highly reliable.
The SAURUS UPSs are equipped with advanced communication for installation and operation with diesel generators and dry contact card alarms, configurable from the display, with periodic graphical recording of the waveforms relating to the inverter, rectifier and control. In addition, SAURUS UPSs are equipped with bypass and control units, standard RS485 communications, Modbus and programmable dry contact card, as well as Input, Output and Bypass switches.