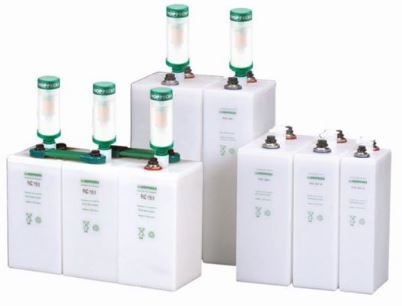 Fiber structure Nickel Cadmium battery system for stationary applications.
The extremely robust FNC battery was developed on the base of the proven HOPPECKE fibre structure technology.
The active material is inserted into a fleece consisting of nickel-plated plastic fibres, which creates a very good and stable electrochemical bond between the components.
The FNC battery therefore withstands the highest shock and vibration loads and has a long service life and cycle life even under extreme temperature conditions.
ADVANTAGES:
Operating life up to 25 years
High cycle stability (over 3000 cycles according to EN-60623)
Application in the temperature range from -25°C to +60 °C. With special electrolyte even temperatures down to -50 °C are possible
Excellent resistance to electrical and mechanical abuse
Long shelf-life without loss of performance after commissioning
HOPPECKE offers you four FNC battery types with different performance classes. They cover all applications:
X-Types X-types have ultra-thin electrodes. They provide a very high short-term output. Typical applications: starting of engines and UPS systems.
H-Types H-types are specialised for applications with discharge times of 30 minutes and higher required capacity. Typical applications: starting of engines, UPS systems and switchboards.
M-Types M-types are designed for varying load requirements or mixed loads for discharge times from 30 minutes to 2 hours. Typical applications: emergency power supplies and switchboards.
L-Types L-types are designed for general discharge characteristic curves with varying requirements, or for mixed loads. Discharge with high and low current density. Typical applications: emergency power supplies, switchboards and energy storage.
APPLICATIONS:
Switchgear,
Telecommunication,
Power Supply Systems,
Safety lighting,
Traffic systems,