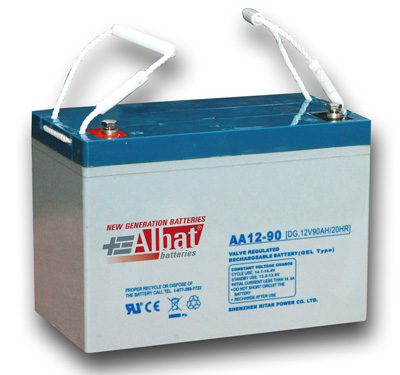 AA G series is pure GEL battery with 15-20 years floating design life. It is ideal for standby or frequently cyclic discharge applications under extreme environments. By using strong grids, high purity lead and GEL electrolyte, the AA G series offers excellent recovery capability after deep discharge under frequent cyclic discharge use. AA G series can deliver 400 cycles at 100% DOD.
DESCRIPTION:
- Strong grid positive electrode and special pasted negative electrode
- Electrolyte immobilized in gel
- Each cell has one-way safety pressure valve
- Safety fireproof equipment
MAIN PERFOMANCE:
- Nominal voltage: 6 and 12 Vdc
- Nominal capacity: from 33 Ah up to 335 Ah
- Technology: VRLA GEL
- Life time: 15-20 years
APPLICATIONS:
- Renewable Energy,
- Telecom,
- Utility / Substations,
- UPS,
- Emergency light
- Security system.