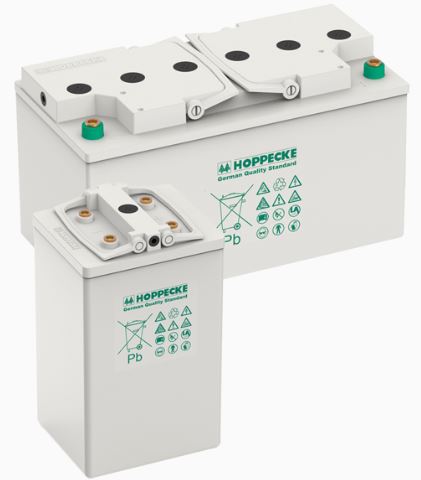 The design principle for HOPPECKE sun | power VR M batteries is based on the use of grid plates and ESS technology.
The high energy density of HOPPECKE sun | power VR M batteries results in a very low space requirement, thus enabling maximum utilisation of your premises.
The properties of HOPPEKCE sun | power VR M batteries make them extremely versatile.
HOPPECKE sun | power VR M batteries are frequently used for street lighting, medical supply units, signal systems and leisure applications. Both the level battery lid with integrated handle and the easy-to-clean surface ensure safe and convenient handling during installation.
BENEFITS:
Maintenance-free monobloc battery – due to Absorbent Glass Mat-technology
Optimized cycle stability – due to improved electrode design for efficiently charge current acceptance
Optimum operational safety – integrated backfire protection
Higher short-circuit safety even during the installation – based on HOPPECKE system connectors
MAIN PERFOMANCE:
Nominal voltage: 2 Vdc, 6 Vdc, 12 Vdc
Nominal capacity: 2 Vdc, 411 Ah to 1070 Ah
Nominal capacity: 6 Vdc, 167 Ah and 229 Ah
Nominal capacity: 12 Vdc, 48 Ah to 133 Ah
Technology: VRLA AGM
Contact: Top Terminal
SERVICE LIFE IN CYCLES AND DEPTH OF DISCHARGE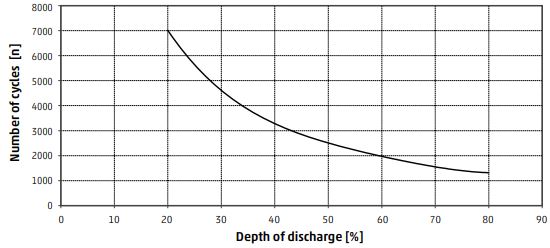 APPLICATIONS:
Solar home storage systems
Street lighting
Medical care facilities
Signalling systems
Leisure applications.