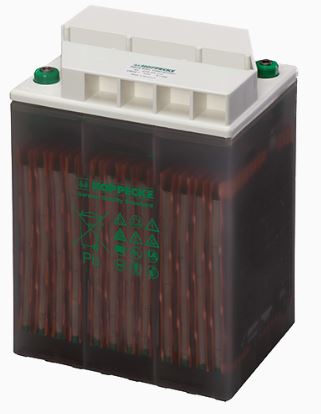 The HOPPECKE sun | power V L bloc is a stationary, low-maintenance lead-acid battery for cyclical applications. It guarantees long service life due to the use of optimised low antimony-selenium alloy and offers maximum cycle stability during operation with partial discharge (partial state of charge).
The impact-resistant, highly translucent jar ensures easy handling and optimal monitoring of the electrolyte level.
Product design to DIN 40737 Part 3 ensures highest level of compatibility when replacing existing equipment and for integration with the extension of existing battery systems.
The use of HOPPECKE system connectors results in the sun | power V L bloc providing increased short-circuit protection even during installation. It lengthens the interval between water refills to the point where no maintenance is required. It is equivalent to sealed lead-acid batteries given optional use of the aquagen recombination system, which prevents the discharge of gases and aerosols.
ADVANTAGES:
Highest cycle stability during PSoC1 operation – due to tubular plate design with efficient charge current acceptance
Maximum energy efficiency by optimised electrolyte recirculation sun | air prepared as standard
Maximum compatibility – dimensions according to DIN 40736-1
Higher short-circuit safety even during the installation – based on HOPPECKE system connectors
MAIN PERFOMANCE:
Nominal voltage: 6 Vdc and 12 Vdc
Nominal capacity: 6 Vdc, 202 Ah to 302 Ah
Nominal capacity: 12 Vdc, 50 Ah to 151 Ah
Technology: FLOODED
Contact: Top Terminal
SERVICE LIFE IN CYCLES AND DEPTH OF DISCHARGE: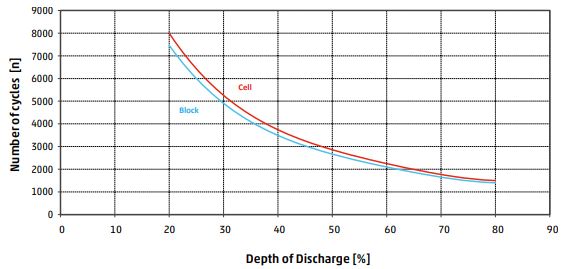 APPLICATIONS:
Emergency power supply (UPS)
Safety lighting
Network services / Large storage facilities
Village power supply
Local public transport.