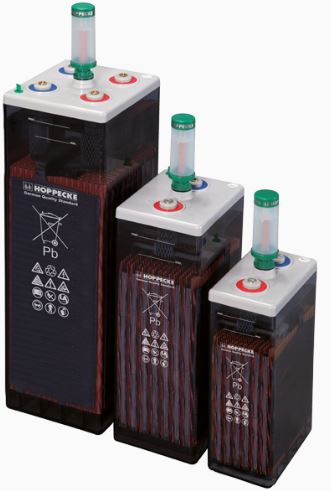 The HOPPECKE grid | power V M is a vented, stationary, lead-acid battery with liquid electrolyte. It is particularly characterised by a 3D structure for the positive electrode. It is designed for high current applications and lasts for up to 20 years. A combination of high energy density and small footprint enables existing facilities to be used in the most efficient manner. These outstanding features and the wide capacity span of the HOPPECKE grid | power V M product range makes it the ideal energy supply for use in power plants, railway and UPS systems.
Combination with the grid | aquagen recombination system lengthens the interval between water refills almost to the point where no maintenance is required, thus significantly reducing operating costs.
ADVANTAGES:
Very good high current capability
Low investment costs
Very long service life
Increased short-circuit protection already during assembly
Extremely extended water refill intervals up to maintenance-free operation
MAIN PERFOMANCE:
Nominal voltage: 2 Vdc
Nominal capacity: 105 Ah to 3780 Ah
Technology: FLOODED
Contact: Top Terminal
Life time: 20 years
APPLICATIONS:
Switchgear,
Telecommunication,
Power Supply Systems,
Railway.